The Track – The Challenge!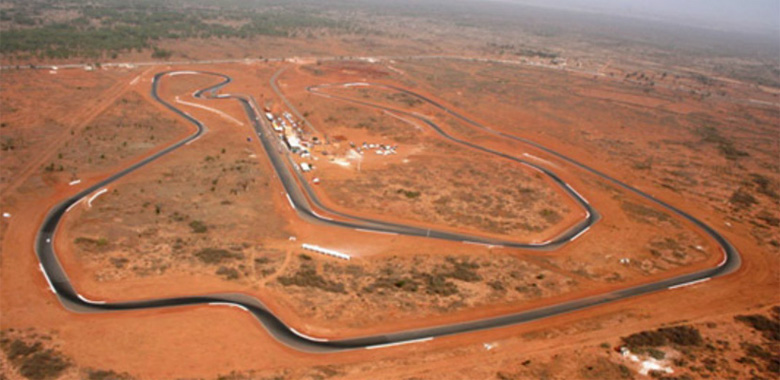 This aerial view shows the exciting location of the Dakar Racing Experience
Situated 60 kilometres south of Dakar at Sindia and 20 kilometres from Saly seaside resort, Dakar Baobab race circuit is set in the heart of the Senegal Savannah, and is West Africa's first permanent racetrack. Consisting of 21 corners on an 80 hectare site, the track is 4.7 kilometres long, has a minimum width of 12 metres at the start, is 15 metres wide at the finish, and complies with the requirements of the Fédération Internationale l'Automobile (FIA).
The circuit has already attracted many professional drivers thanks to the quality of the track and the unique environment surrounding it. The complex includes a control tower, pits, sanitary installations, car parking and a cafeteria, all designed in the traditional Malian architectural style.
Lap record: 1'48″759 by Frédéric Makowiecki on Norma on June 21, 2008
Advantages of the Dakar Racing Experience
Weather : summer temperatures with absolute dry weather between November and May (so you can drive during the fall/winter months in the northern hemisphere).
Attractive and exotic destination : wonderful landscapes and charming Senegalese people. Saly, a seaside resort, is only 20 minutes away from the circuit and boasts of a large group of hotels if you don't want to stay onsite.
Proximity : many direct flights from European capital cities (about 5 hours) and only a 1 or 2-hour time difference.
To find out more, please click on booking enquiries.
Track showreel