A True Race Car
The "tropicalised" version of the VW Funcup is light, fast, robust and accessible to all.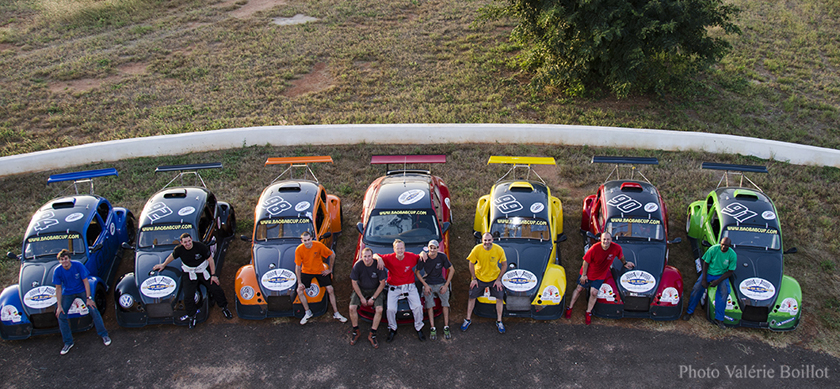 Outwardly the cars look like VW Beetles, but as regards the exterior, the moulded glass fibre body together with the flat windscreen is where the comparison ends.
The "Funcup" cars are designed to ensure that every race participant has an equal chance, as all drivers are equipped with vehicles built to the same specifications.
Each vehicle is a genuine race car built on a tubular steel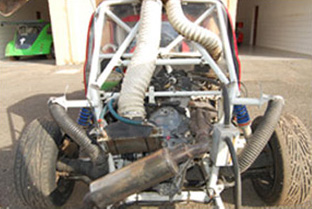 chassis, incorporating a VW Golf 1800cc mid-mounted engine developing 132 bhp transmitted to a rear axle through a 5-speed Audi manual gearbox. The driving position is central, something that can take a little getting used to but, once familiarity has been established it makes for a relatively easy drive. However, it can take time to become sufficiently confident to realise the car's potential.
The "Funcup" wheelbase is similar to that of a 1970's
VW Beetle, being very slightly shorter, and a little wider. The overall height of the car is less, all of which makes for a lower centre of gravity and safer handling, driver safety being of paramount importance at all times.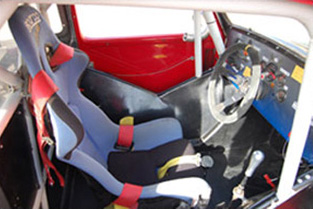 The cars are dynamically inclined to understeer, although the application of a little trailing throttle can induce oversteer, while cornering attitudes are flat, and there are no anti-roll bars or power-assisted steering.
The "kerb" weight of each car is 750Kg and there is a 5-point safety harness. Conventional tyres are fitted as standard, and the fuel tank capacity is 42 litres.
In race conditions fuel usage averages 27 litres/hour.